All Off Piste™ Mountain Guides St. Anton
Guiding in the Arlberg since 2003
Our safe guiding style and patience for or clients will improve your knowledge of the mountains and improve your technical skiing skills while you enjoy your ski journey through the wonderful and challenging terrain of the St. Anton mountains.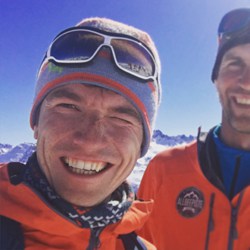 I love skiing and share what I know about the mountains. My father always took me climbing and skiing with him and so i grew up within the alpine environment. Sharing the experience– is for me the spirit of any outdoor activity and the motivation for why i have chosen this life!
2001 – 2003  off piste guiding and off piste courses in Obergurgl Tirol as a UIAGM aspirant and austrian ski instructor
Summer 2002- 2004 guiding many classic routes in the Alps
2004 finished the UIAGM mountain and ski guide qualification
Summer 2004 to 2007 guiding in Chamonix
2004- 2013 guiding in the Arlberg for an Alpine School
Summer 2013 started "Alles Klettersteig" which is a alpine school for fixed rope route climbing around Innsbruck.
2013 started All Off Piste Mountain Guides St. Anton
Hannes is a full professional Mountain Guide. His clients are coming back year after year. His attitude combines a fun skiing day with a transparent guiding style and perfect risk management.
2004 – 2006 off piste guiding and ski instructor in Obergurgl Tirol as a UIAGM aspirant and austrian ski instructor
From summer 2004 guiding all around the world: Africa, Amerika, Alps, Norway
2006 finished the UIAGM mountain and ski guide qualification
since 2008 off piste guide in St. Antion
2013 became Hannes partner from Franz Trimmel and All Off Piste MTN Guides St. Anton