The first time when i heard about this new avalanche backpack system was spring 2013. I was guiding for "Piste to Powder" in St. Anton and got the chance to ski with the "only one PRO skier from KÄSTLE" CHRIS DAVENPORT. 
Anyway, now are the first pictures in the web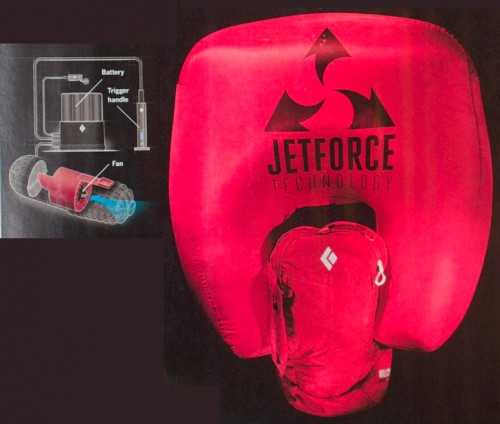 Compare to ABS and Mammut this avalanche backpack works with a super strong fan to inflate the balloon ( even good for cleaning the goggles :-)).
Apparent advantages should be:
no issues in planes (See here the guidelines for traveling with CO2 cartage) and
the avalanche rucksack can be reloaded 4 times without to charge the batteries.
no problems with the CO2 cartage
the automatic deflation from the avalanche airbag can possibly create a airspace around your head
So the skier can trigger the rucksack many times for training, or using it a second time a day, for showing off, or what ever ;)
In the other way the battery will be the big disadvantage:
we all know about battery life in cold temperatures, this can't be a solution!
the Lithium battery could be damaged for example by transporting in a plane
the Lithium battery is losing power over the years
the brand new technology will undergo numerous changes in the whole system
Anyway i try to have no prejudices and wait with critics till i will test it.
Technical details:
inflate time 3.5 seconds
weight 3.2 kilograms