Contour hybrid free test review
Who is the right user?  Is the split skin good for my way of skiing?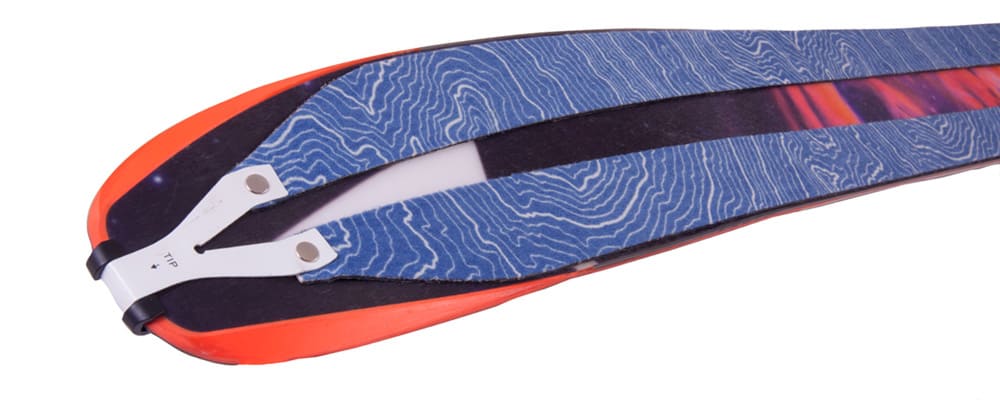 [When you look at a touring skin which is splitted in the middle there are straight away several questions:
How does that work?
Does it stick at the ski?
For which skis are these made?
How are they in bad weather conditions?
Let's give you a few answers :-)
Who is the perfect user?
freerider and classic off piste skier
wide and very wide skis
perfect skin for St. Anton and Arlberg
The split skin is super light and fits to all off piste skis. So they are perfect for every day use.
Very good to walk back up when clients need help even if i haven't planed any walking:-) (Searching for a ski,…)
You have different pairs of skis and save money because you don't need to buy other skins.
Perfect back up skins for mountain guides in case the skins from the clients don't work or the forgot them in the apres ski.
---
How does the split skin work?
There is one hook in the front and one hook for the back. With this hook you can adjust the front and the heel part, depending how close you would like to have the skin to the tip. If the skin is closer to the tip it works better in difficult conditions. The sliding has less friction especially in sticky conditions because the skin is not over the whole base.
---
Does it stick to the ski?
The Hybrid technology from Contour works very good and the skin sticks always on the skis. I experienced that it is very important when you take off the skins from the ski to put the mesh in the middle otherwise they can stick very hard together.
---
For which skis are these made?
The skins can be used for various skis from 95 mm waist
Measurements
Lengths: S (162–172 cm) , M (171–181), L (180–190), XL (189–199)
---
How are split skins in bad weather conditions?
You need to take off just one hook first and fold it straight away together than it is no problem. When you get to a more comfortable place put the mesh in between the sticky parts.[/fusion_text][/fusion_builder_column][/fusion_builder_row][/fusion_builder_container]