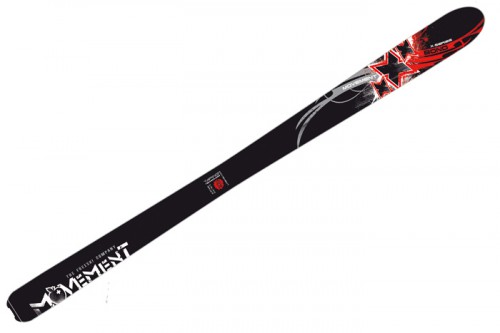 Ski touring skis  in the last years were not so much fun to ski. They were skinny, unstable actually not as light as the should be and with more than 30 cm of fresh powder the ski performed like a "submarine".
Last year i got one pair from the Movement X Series. I took the skis from the Jennewein workshop (by the way – best ski shop in St. Anton)  and i could not believe how light they were (2500 grams with binding). Just unbelievable. 10 Minutes later I met the clients, a little bit confused about my ski choice…..
Anyway, the early rise rocker changed ski touring in a new way. But Early rise rocker skies where horrible to walk in the spring time with a hard or frozen snow surface. Movement invented the early rise rocker and shovel and tail with out any carving shape. So the tip and the shovel where even touching the snow with a hard surface and the ski was not sliding any more.
Which binding to but on a ski which has just 1200 grams?
Well theres is no way around the Dynafit bindings or bindings with the same system.( I will write a article about ski touring bindings and off piste bindings in the next weeks :-) ) The Dynafit is light, very stable, super low standing and very good pivot point on the boot. The Dynafit binding system has not one disadvantage. Accept you need special boots for it.
Off piste performance Movement Bond X
….. For me the Movement Bond X Series combines ski performance, super light weight and torsion amazingly well. The ski floats very well even in deeper powder (up to 40 cm) and because of the early rise rocker I had super easy turning in all snow conditions and terrain. The "bouncy, bouncy" turn is the big strength of the ski. In short turning and turns with middle long radius the ski beats in terms of floating even wider normal off piste skis ( up to 90mm and more below the binding)
Conclusion ski test Movement Bond X Series 2013:
If the weather is good in St. Anton and we are going for little ski touring with skins or booting (up to 40 minutes) i pick the Movement Bond X Series. The advantage of the light ski in terms of walking is just unbelievable. Even in the fog with compact snow i would pic the Movement. Because the turning is very easy even in super slow speed. Which means very power saving!!!
This winter season 2013/14 i am going to choose this one :-) , i really look forward! :
You can read the first review in December 2013
Movement Response X